When:
March 23, 2018 @ 5:30 pm – 9:30 pm
America/New York Timezone
2018-03-23T17:30:00-04:00
2018-03-23T21:30:00-04:00
Where:
BSRI Stone Chimney Rd.
101 Stone Chimney Rd.
Supply
NC 28462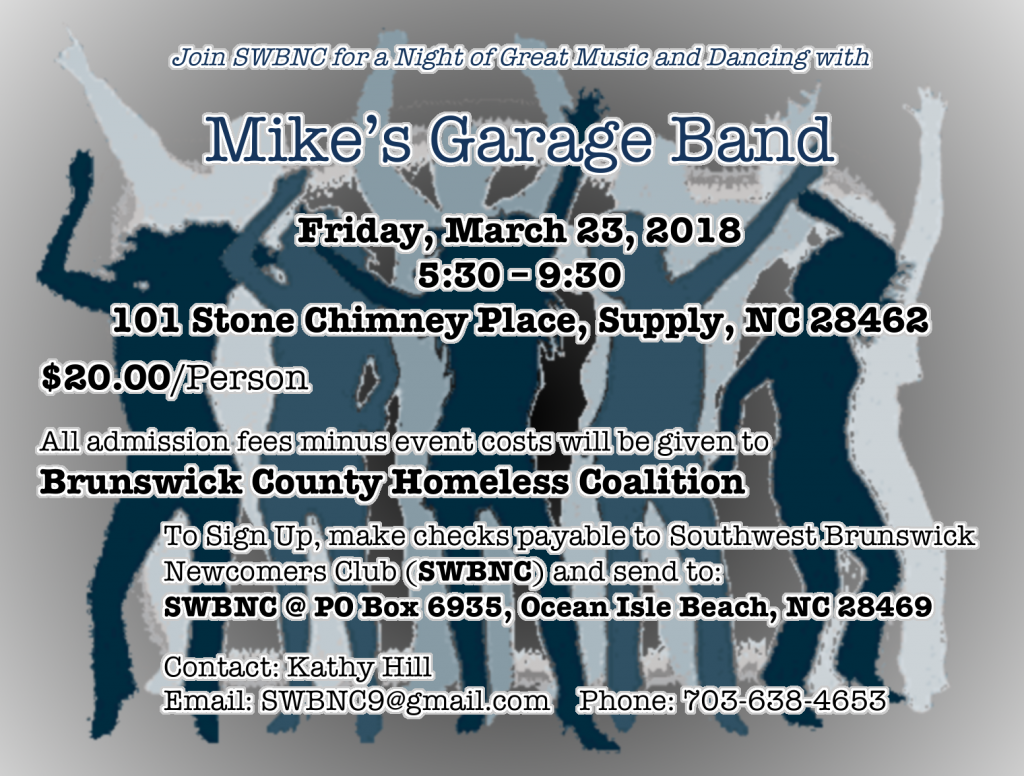 Brunswick County Homeless Coalition is very thankful for the SWBNC Mike's Garage Band Fund Raiser. [Visit Event Page]
Information for Mike's Garage Band Event Sign-Up
Location: 101 Stone Chimney Place, Supply NC 28462
Map it online: Google Maps
Event Date – Friday, March 23, 2018
Time: 5:30 P.M. – 9:30 P.M.
Sign-ups will be conducted at the February 8 th and March 8t h General Meetings that are
held at the Presbyterian Church in Shallotte. The Church is located at 5070 M.H. Rourk
Drive, Shallotte, NC 28470.
Sign-ups can also occur via mail at SWBNC, P.O. Box 6935, Ocean Isle Beach 28469.
Seating Capacity is 300-360.
Cost of Event Admission: $20/Person
Attendees may either reserve a table with others or ask to have the Newcomers' Club
make seating arrangements for them.
For a table to be reserved, a table Team Leader must be identified. All Checks must
have the name of the Team leader and the Event Name, MGB, in the memo section.
Anyone sending a check without the Team Leader's name in the memo section will be
assigned seating at the discretion of the club.
Beer and wine will be available for your enjoyment. Beverages may be purchased at the
Event. BYOB is not permitted.
Food will not be sold. Please bring a substantial appetizer and/or dessert to share with
others at your table. For those reserving tables, coordinate who brings what to create
your own feast!
Mike's Garage Band does not accept any fees for their performances. They only
request that a charitable donation be made to a Charity or Charities within Brunswick
County. The Charity selected by the SWBNC membership this year is:
Brunswick County Homeless Coalition
On the evening of the event, we will raffle off a hand made quilt (approximately 60" x
70"). The quilt was lovingly created and donated to SWBNC specifically for this event.
All proceeds will be donated to BCHC. Raffle tickets can be purchased the night of the
event and at the February 8 th and March 8 th general meetings, where the quilt will be
displayed. Raffle tickets will be $2.00 each or 3 for $5.00.