Eight adults and a minor child were charged by police in El Cajon, California, for breaking a city rule against the public sharing of food. The city's rule was intended to help curb the spread of Hepatitis A, a viral disease plaguing areas of California, and those charged were, in part, protesting the rule's effects on the poor and the homeless, according a BBC report dated January 15, 2018.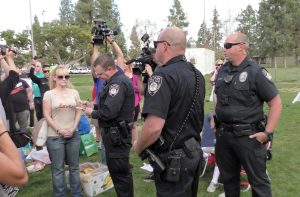 Excerpt from the BBC report:
Nine people in California have been charged after they handed out food to the homeless, violating a rule about sharing food in public places.

The group were protesting an emergency ordinance in the city of El Cajon which was introduced in response to California's hepatitis A outbreak.

They handed out food, clothes and toiletries on Sunday before police arrived and issued citations.

Local media report that El Cajon City Council passed the ordinance in October. It prohibits food sharing on any city-owned property. The authorities say it is a safety measure against hepatitis A, but opponents argue it unfairly penalises the city's homeless.

Police wrote a citation for a child who was among the volunteers, according to NBC San Diego. "I was passing out food and this guy was like can you step aside please," 14-year-old Ever Parmley said.

Hepatitis A can be spread by touching contaminated foods or objects. There is a vaccine for Hepatitis A.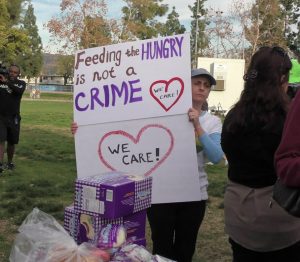 An El Cahon councilman spoke out on the issue, expressing the opinion that feeding the homeless outside in parks during the hepatitis outbreak is not a good idea, and that those wishing to help should take hungry persons home with them to feed them and offer them sanitary facilities.  Relief work is typically done in a neutral, public location for safety reasons.
The full story can be read on the BBC website.
Quoted portions are Copyright © 2018 BBC. Images copyright Facebook / Homelessness News San Diego. Opinions expressed in this article belong to the person or organization expressing the opinion.