Organization raises awareness for the homeless
Saturday, November 18th 2017, 1:10 pm EST
By: Jenna Kurzyna, WWAY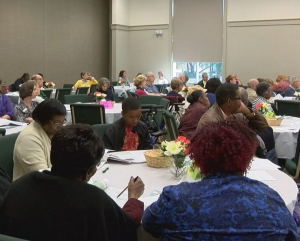 BRUNSWICK COUNTY, NC (WWAY) — Ending homelessness and hunger in one county is the mission for the Brunswick County Homeless Coalition.
This weekend the Brunswick County Homeless Coalition held their 6th Annual Hunger and Homeless Banquet and Soup Luncheon.
This event was to educate and raise awareness about poverty-related problems.
The event was free and hosted at the Brunswick Center at Leland.
The banquet and soup luncheon invited formerly homeless individuals to talk about their past struggles and learn about solutions.
Joe Staton who now volunteers with the coalition used to be homeless and said the help he received from them was life changing.
"A lot of people don't know that Brunswick County has a homeless population at all, but they do and we work directly with them. When I came to Brunswick County I was homeless, and I received the help and I know there's a lot of people out there needing it," Staton said.
The Brunswick County Homeless Coalition is made up of volunteers and wants to continue to educate the community about the hunger and homeless problems in the area.
WWAY TV, LLC. © 2017 All Rights Reserved.