BCHC Participates in UNCW Grant Writing Class for Nonprofit Organizations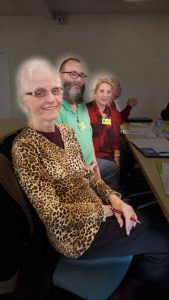 Three members of BCHC, Betsy Duarte, Barbara Serafin, and Joe Staton, attended a class especially for nonprofit organizations on the topics of identifying grant opportunities and writing grants. The class was presented in a single session on March 15, 2018 by UNC Wilmington's Center for Innovation and Entrepreneurship and QENO (Quality Enhancement for Nonprofit Organizations), and led by Grants Specialist Althea Lewis and Nonprofit Advisor and Grant Consultant David F. Morrison.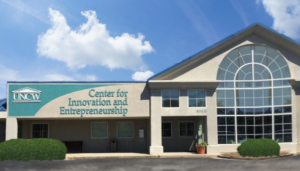 Class materials included introductory information about grants, sources for grants, and specific tips for preparing grants that are accepted.
Introducing Grants
Grants were introduced simply as proposals ("Grant Proposal") submitted in response to RFP or RFA opportunities ("Request for Proposal" or "Request for Applications") that are requests to obtain funding in a form that does not have to be paid back. The RFP/RFA specifies the approximate amount of funding available, the deadline(s) for applying for the funding, who offers the funding, and who may qualify to receive it.
Applicants are expected to read completely and understand any RFP/RFA, and comply completely with their requirements in order to avoid needless disqualification of the application.
Getting down to the details of what grants represent: An organization offering funds has one specific purpose that they want to fulfill, and an organization applying for funds has its own, possibly different, purpose. Aligning these two in "the matching game" is an important part of the process. The applying organization must describe the specific part of their purpose that overlaps with the purpose of the grant, and not simply request money for their own aims (no matter how brilliant or how needed they may seem), either in a LOI ("Letter or Intent" / "Letter of Inquiry") or in the application itself.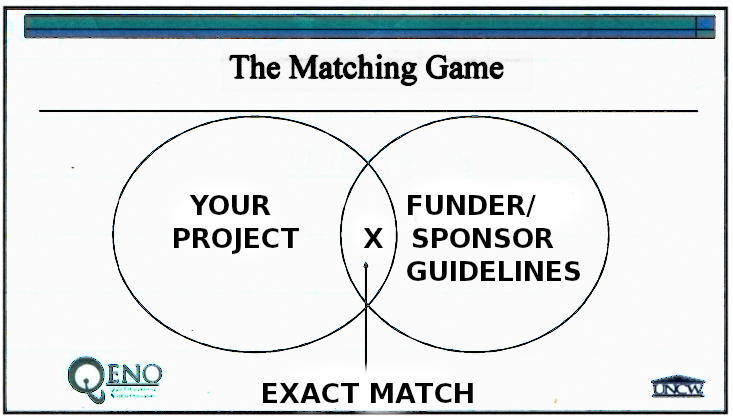 Funding Sources
Within the class, we focused on locating funding sources likely to be of benefit to the target audience (Eastern North Carolina Nonprofits). We talked about both potential sources and "sources for sources".
Sources for Sources included:
Grants.gov (The U.S. Federal Government grants website, with search feature)
Philanthropynewsdigest.org (A nationwide searchable listing of grants offered)
Ruralhealthinfo.org (The Rural Health Information Hub)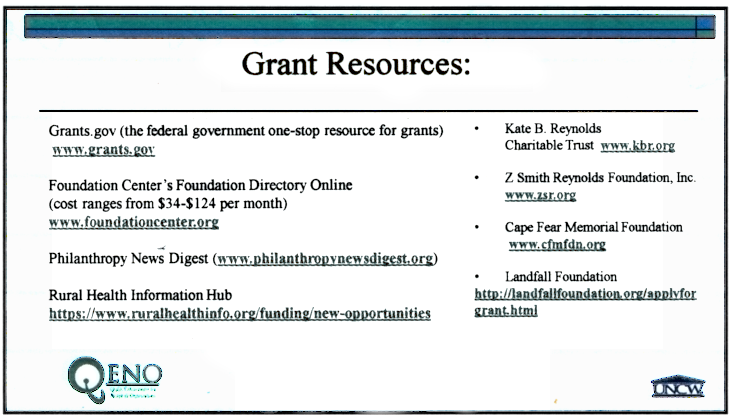 Specific potential sources that we identified:
Kbr.org (The Kate B. Reynolds Trust). With grants available only to nonprofits and government agencies, and only within North Carolina. Funding for things like capacity building, direct services, program planning has a grant maximum of about $50,000. Their deadlines work on a rotating basis each August and February.
Zsr.org (The Z. Smith Reynolds Foundation). With grants available to North Carolina nonprofits, government agencies, schools, and churches. Funding areas have included things like community economic development and social justice programs. Deadlines and details are currently not posted at this writing.
Cfmfdn.org (Cape Fear Memorial Foundation). With grants available to nonprofits only in Duplin, Columbus, Pender, New Hanover, and Brunswick counties of NC. Their funding focus is on health education and improvement. Grants up to $200,000 have been awarded in the past. Their LOI deadlines are June and December, and their Application deadlines are July and January.
Landfallfoundation.org (The Landfall Foundation). With grants available to nonprofits only in Pender, New Hanover, and Brunswick counties of NC. Their funding areas for up to about $7500 are arts, education, and health & welfare. Their LOI deadlines are June and December, and their Application deadlines are July and January.
Grant preparation tips
Some highlights on the tips on grant preparation:
Use your "Need Statement" or "Problem Statement" to make a compelling case that your specific project is needed and important.
Make sure that your goals are specific and measurable, with specifically described benefits.
The Budget and its justification can be the hardest items in an application, making them good candidates to do first.
Make certain that all instructions are followed.
Closing
The BCHC members who attended the class have contact information for experts who have expressed a willingness to help look over grant applications before submission to help them achieve success. The class has been helpful already in the information that it provided, and hopefully it will be helpful in the future to help BCHC secure needed funding for operations and special programs.