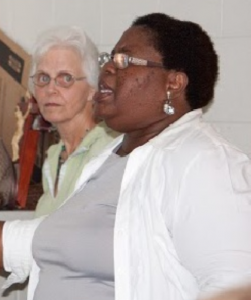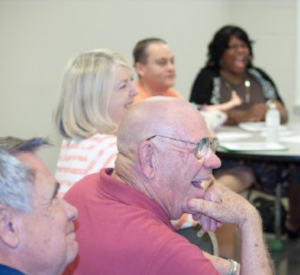 Resea Willis, CEO and President, Brunswick Housing Opportunities, Inc. (BHO), was guest speaker on Tuesday, April 16th, 2013 at the monthly meeting of the Brunswick County Homeless Coalition (BCHC). One of BCHC's goals is to advocate for transitional and permanent housing. The membership had an opportunity to hear how since 2007 the founder of BHO has focused on creating policy changes, building affordable housing, and educating homebuyers on how to purchase affordable housing.
The mission of BHO is to EDUCATE consumers to use existing resources as a platform to launch their economic independence; EQUIP consumers by giving them access with training to tools and resources previously out of the reach; EMPOWER consumers to use their training and preparation to take advantage of opportunities; and EXPAND dreams into possibilities and realities. At present a work group of BCHC including members John Allen, Mark Filipovic, Bill Hadesty, Fred Thorne, Roy Tucker, and Barbara Serafin, have met monthly to educate themselves about affordable housing and advocate for its presence in Brunswick County.
BCHC's Mission to advocate for the homeless and those in need involves facilitating resources to meet those needs. Our vision includes decreasing the incidence of chronic and transitional homelessness. Two of the goals of the BCHC work group are to encourage landlords to list affordable rentals on capefearhousing.org and to educate those seeking affordable housing as well as educating those who are assisting others to seek affordable housing. The Brunswick County Association of Realtors has been contacted and we have discussed listing affordable housing on capefear.org and learning the specifics of the program. Calling 2-1-1, a statewide resource for information confirmed that when inquiring about affordable housing, capefearhousing.org and nchousingsearch.org were given as contacts. BCHC mailed information about nchousingsearch.org, a free service to find and list housing, to many apartment complexes. The above mentioned resources could help the seekers and those assisting the seekers to find affordable housing to meet their specific needs including amenities, neighborhood features, and requirements to be met in order to be eligible for housing. Maintaining contact with Resea Willis and BHO and connecting with the services and resources available will strengthen our commitment to the mission and vision of BCHC.
This article was originally published by the Brunswick County Homeless Coalition in the "Currents" newsletter, Spring 2013 (Vol. 2, No. 1) edited by Kitty Kesler and published by Susie Kubley.