The Brunswick County Homeless Coalition (BCHC) is taking their message on the road. As part of our mission to educate and raise awareness concerning the problems of the neediest in Brunswick County, we have developed the Coalition Ambassadors program. Eight BCHC members were trained on April 25 to be Ambassadors. They will travel in pairs to give presentations at civic and faith-based organizations throughout the county.
Using a computer-projector slide show, ambassadors will explain the mission and vision of BCHC, past events that we have hosted, where we are headed, and how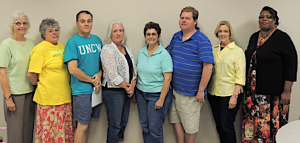 the audience can get involved. They will distribute a fact sheet highlighting the issues surrounding poverty and homelessness in the county and answer questions.
Many residents don't recognize that there are homeless people in the county or how many families teeter on the brink of homelessness. Coalition Ambassadors is a program designed to dispel these myths. It is hoped that by shining a light on the problems of the neediest more people will become involved in trying to solve those problems.
County groups and organizations who wish to take advantage of the program can contact BCHC at 1-888-519-5362.
This article was originally published by the Brunswick County Homeless Coalition in the "Currents" newsletter, Spring 2013 (Vol. 2, No. 1) edited by Kitty Kesler and published by Susie Kubley.