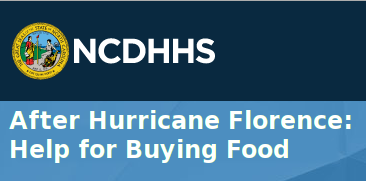 Information comes from the NC Department of Health and Human Services.
The North Carolina Department of Health and Human Services has received approval to help people buy food through the Disaster Supplemental Nutrition Assistance Program (D-SNAP) program in 27 counties that were declared a federal disaster after the storm. In Brunswick County, you should apply in person at Odell Williamson Auditorium between Sept. 28th and Oct. 6th, 2018. (9/28 8:30am-5pm, 9/29 9am-5pm, and 10/1 through 10/6 9am-5pm).
More Storm Information
More storm recovery information is available on the following page: brunswickhomeless.com/florence-recovery/
D-SNAP/Emergency Food Stamps: Eligibility
To be eligible, people must:
Live in one of these counties: Bladen, Beaufort, Brunswick, Carteret, Columbus, Craven, Cumberland, Duplin, Harnett, Hoke, Hyde, Johnston, Jones, Lee, Lenoir, New Hanover, Moore, Onslow, Pamlico, Pender, Pitt, Richmond, Robeson, Sampson, Wayne and Wilson. (Other counties may be added later.)
Have suffered losses/damages related to Hurricane Florence, such as damage to property, loss of income or food loss.
Have proof of identity and proof of residency (if available).
Have income and resources below certain levels.
Not currently be receiving help buying food through the Food and Nutrition Services (FNS) program.
Note: Those already receiving FNS can also get extra help buying food, but do not need to fill out a D-SNAP application. Your additional benefits should appear on your card by Thursday, September 27th, 2018.
Amount
The assistance amount depends on household size, but a family of one would receive $192, a family of four would receive $640, and larger families would receive more.
Application information
The application window is Friday, Sept. 28, 2018, through Saturday, Oct. 6, 2018. All application sites will be closed Sunday, Sept. 30. People who want to apply for help buying food must do so in person. People are encouraged to apply in the county they live in, but can apply in person in any of the 27 counties, regardless of which county they live in. Expect wait times when you get to the office. Counties will do everything they can to process applications quickly, but many people are expected to apply.
Brunswick County applications will be received at Odell Williamson Auditorium/Brunswick Community College Main Campus, 50 College Road NE, Bolivia, NC 28422 according to the following schedule:
Fri., Sept. 28 … 8:30 – 5pm
Sat., Sept. 29 … 9-5pm
Mon., Oct 1 … 8:30-5pm
Tue., Oct 2 … 8:30-5pm
Wed., Oct 3 … 8:30-5pm
Thu., Oct 4 … 8:30-5pm
Fri., Oct 5 … 8:30-5pm
Sat., Oct 6 … 8:30-5pm
You can complete your application ahead of time and bring it with you if you want to. (English application, Spanish application). If you are eligible, you will receive your one-time debit card the same day you apply, so you will only need to visit the office once. You will be able to use your card to buy food within three days of receiving it. More information about what you need to bring with you to apply and how you can use your benefits to buy food is available in a Frequently Asked Questions (FAQ) document.
Source: www.ncdhhs.gov/after-hurricane-florence-help-buying-food, www.ncdhhs.gov/hurricane-florence-d-snap-locations