Hunger and Homelessness: The Causes and Cures
By Elisabeth Duarte
Oct., 2019; Brunswick County, NC–There is a common misconception that people become homeless as a result of mismanaging money, making poor decisions, or through drug or alcohol abuse. While some of these factors can contribute to homelessness, none of them are the sole cause of it.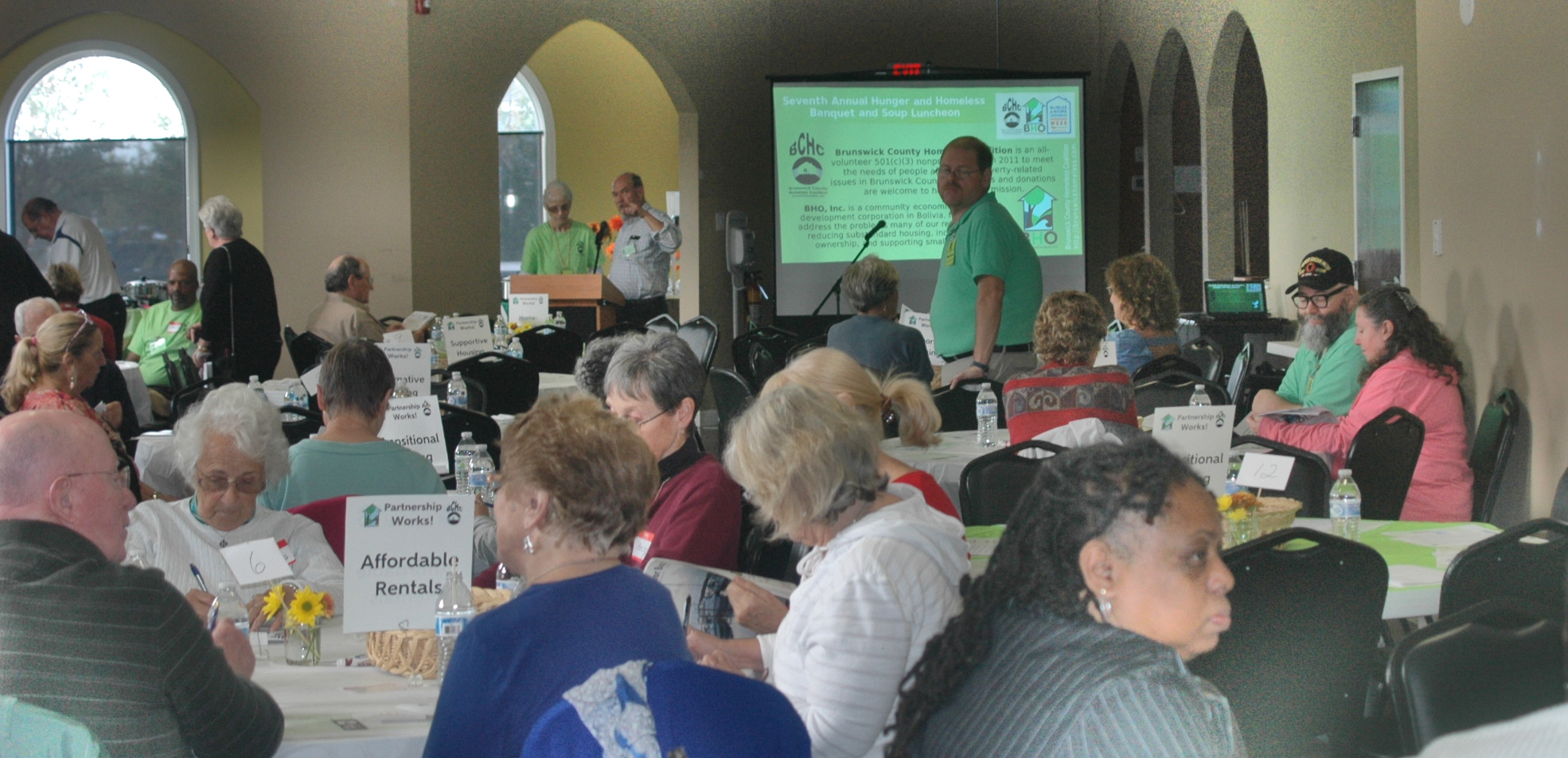 Guests at the 2018 banquet discuss solutions specific to Brunswick County, NC
What the Brunswick County Homeless Coalition, a private nonprofit 501(c)3, and a staff of volunteers that assists people in Brunswick County, North Carolina, has observed, is that many people may be just one event away from becoming homeless. Many of these events are beyond one's control, like natural disasters such as hurricanes or floods, to more mundane things such as unexpected illness, or injury or losing a job, that can take us from safe and secure to hungry and homeless.
For Jose Ruiz, for example, it was when he and his pregnant wife, Suzie, discovered black mold in their rented double-wide mobile home in the spring of 2019. This was the event that caused them and their five-year-old son, and unborn child to become homeless. Their landlord wasn't able to eradicate the mold, and they couldn't stay in the house as it was, so they called the Brunswick County Homeless Coalition's 888 number (1-888-519-5362) and filled out an intake form over the phone with a volunteer. They were placed in a motel for several days until they could secure other housing.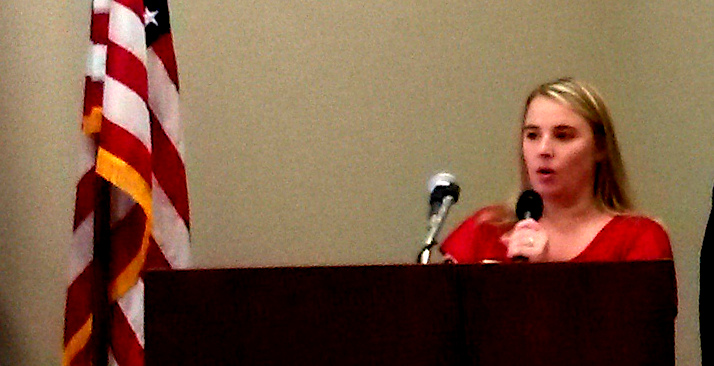 Stephanie Bowen, Executive Director for Brunswick Family Assistance Agency, at the 2017 Hunger and Homeless Banquet. Photo Credit: Jessica J, BCHC
For Veronica and her two preschool age children, the event was a tornado that preceded Hurricane Dorian that took the roof right off their rented mobile home, and the rain that followed that destroyed the home's contents. The family was forced to relocate. But where would they go? Veronica called the Brunswick County Homeless Coalition's 888 line and a volunteer arranged for short-term emergency shelter while she considered her options.
A third request was from a family of five, a single mom and her four children, whose air conditioner unit had quit working and their single wide trailer was unbearably hot without the window unit working. The Brunswick County Homeless Coalition discussed it at their monthly meeting, took up a collection and Paul Witmer, BCHC's Veteran Advocate and Joe Staton, President, purchased a unit and Joe personally installed it with the help of a neighbor.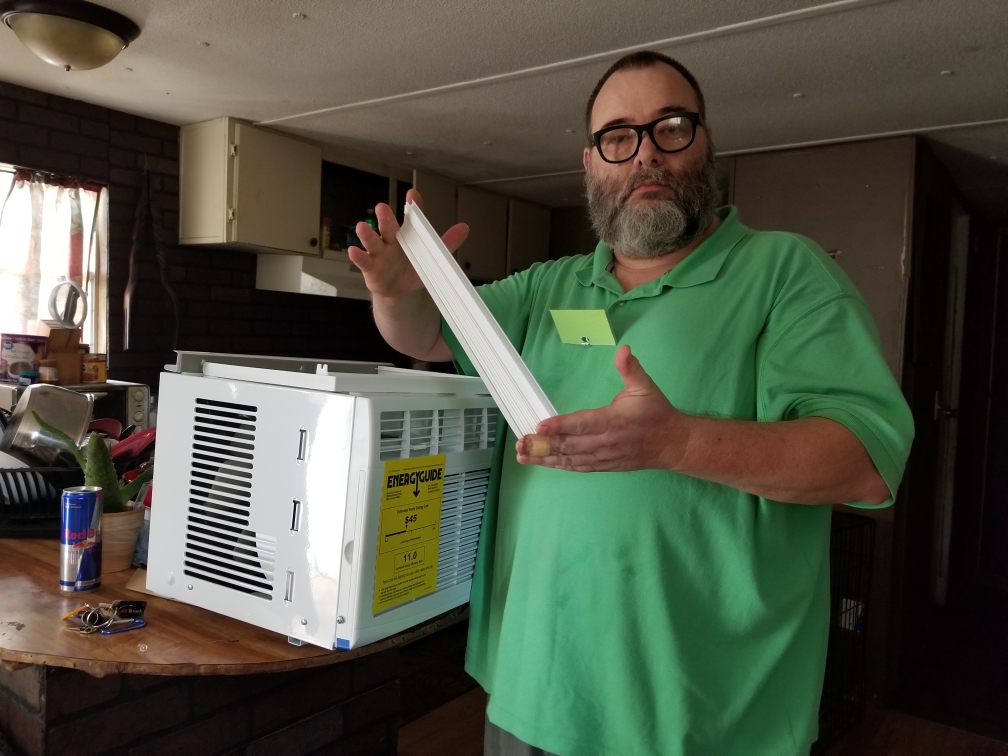 Joe Staton, President, Brunswick County Homeless Coalition, works this past summer to install an air conditioner for a client family in Supply, NC. Photo credit: Elisabeth D., BCHC
Many calls that come in are requests for help with rent or power bills which allows tenants to stay in their existing homes. "The Coalition's goal is to keep people in safe, stable, permanent housing where possible or to help them find it if necessary", says Staton.


Left: Barbara Serafin and Betsy Duarte work to prepare the soup line for the Seventh Annual Hunger and Homeless Banquet and Soup Luncheon in Shallotte, NC. Photo Credit: Kate P., BCHC; Right: Volunteers serve homemade soups to those attending the Sixth Annual Hunger and Homeless Banquet and Soup Luncheon in Leland, NC. Photo Credit: Jessica J., BCHC
Stephanie Bowen, Executive Director of Brunswick Family Assistance, said that with a budget of $70,000 and a huge volunteer effort , she was able to distribute water, food, and clothing to those in need in a county hard hit by Hurricane Florence. Ms. Bowen says she could "never have accomplished this mammoth task without the tireless efforts of hundreds of volunteers throughout the county."
Ms. Bowen will be the keynote speaker at the 8th Annual Hunger & Homeless Banquet and Soup Luncheon at the Brunswick Center at Calabash on Saturday, November 16th from 10:00 am – 2:00 p.m.
The Rotary Club of Shallotte is sponsoring the event this year.
Please come out to learn more about bringing volunteers and donations together to help solve a serious problem in Brunswick County.